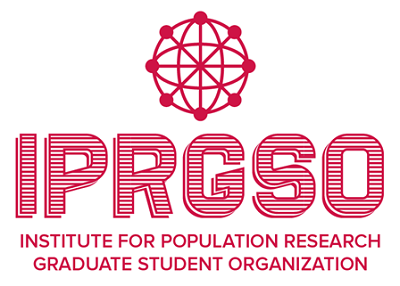 All currently enrolled Ohio State University graduate students are welcome to join the Institute for Population Research Graduate Student Organization (IPRGSO). IPRGSO provides graduate students with opportunities for training and networking in areas not traditionally covered by formal coursework. IPRGSO is a fully student-run organization.
---
Why join IPRGSO?
Professional Development!
IPRGSO hosts an interdisciplinary professional development workshop at least once per semester. Past topics have included non-academic job searches, finding funding, and working with media. IPRGSO also connects members with other resources and opportunities across disciplines and departments.
Networking!
We have members from many departments and with varied research interests. Network with peers and potential collaborators with many skills and backgrounds.
Fun!
We regularly host social events and connect members through Facebook and events. Join a supportive, fun community of like-minded graduate students!
How to Join:
Join by either filling out this form or emailing IPRGSO to tell us 1) your name, 2) your program/department and year, and 3) your research interests. It's that simple! You can then join the Facebook group and will begin receiving members-only emails.

Not ready to join? All graduate students are welcome at our events, so look for event announcements from IPR and stop by to see us some time.
Want to Serve?
A team of officers leads the organization each year, planning events and working to meet the needs of students. Nominations and voting for positions take place every spring, and officers serve for one year. Membership is required to run for or vote on officer positions, and officers may come from any home department or program.
2022-2023 Officers:
Huda Jabbar -- President
Luca Badolato -- Vice President
Akanne Torres Beltran -- Treasurer
Andrea Constant -- Secretary
Reanne Frank -- Advisor
Corinne Rubright -- Co-Advisor